Congratulations, Mya Curry!
2022 Valdosta-AAUW Academic Honors Winner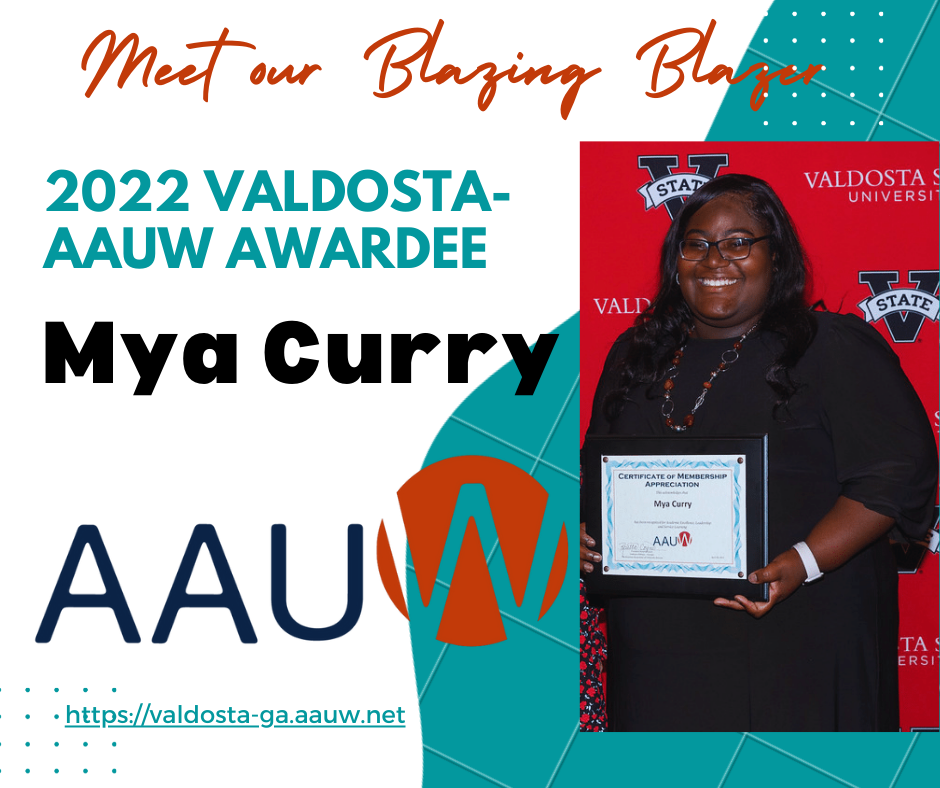 The Valdosta-AAUW Branch was proud to recognize Mya during the Valdosta State University Honors Ceremony Dinner on April, 28, 2022. Mya received a certificate award and an honorary membership to AAUW (national, state, and local).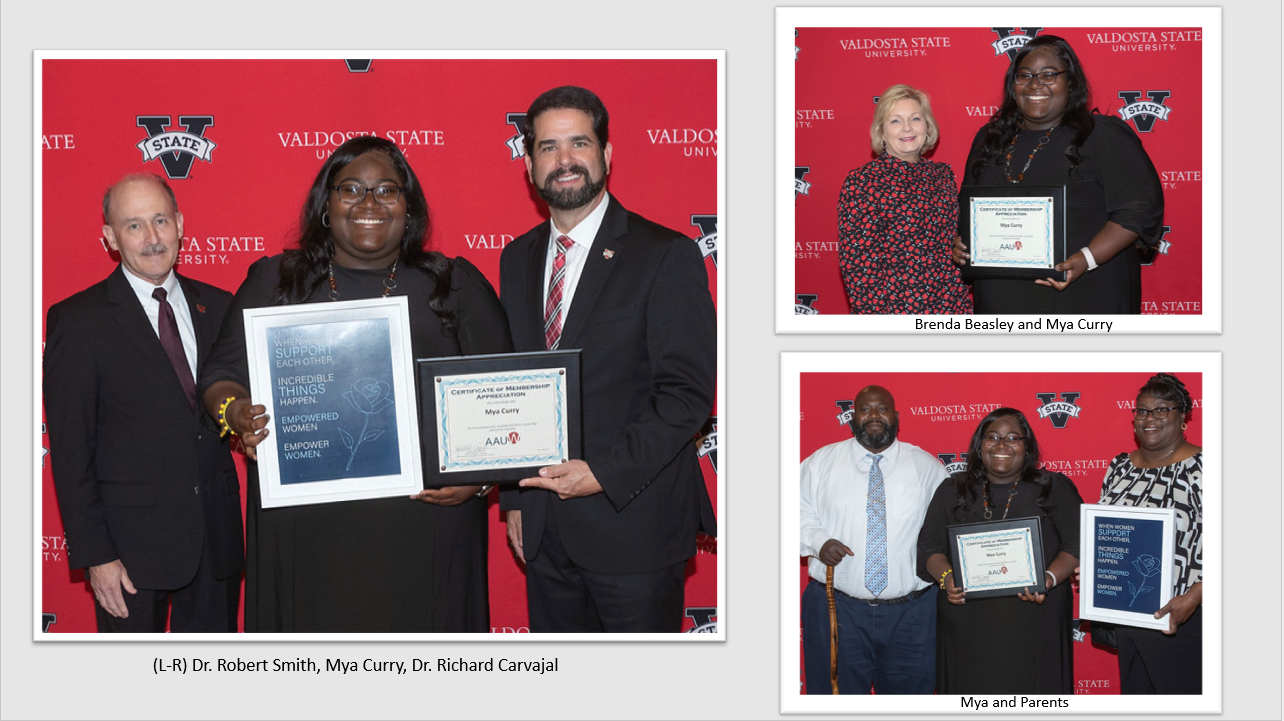 Mya earned a BS in Middle School Education, Summa Cum Laude, Spring 2022. She has been a Blazer Beginnings Orientation Leader, a Peer Mentor Coach, Commuter Success Coach, and a member of Sigma Gamma Rho Sorority Inc. during her college career. She has received numerous awards and scholarships such as the 4-year Sullivan Scholarship, Ralph B Johnson Scholarship, VSU Night on Fire Burning Bright Award (2019-2022), and has appeared on the Dean's List every semester beginning Fall 2018 while participating in the VSU Honors College. Additionally, Mya serves the community by participating in organizations and events such as the Miracle League, Carrot Farmers Migrant Camp, House of Rhoyalty Adopt-A-Child Christmas, MLK Celebration March, Valdosta Soup Kitchen, and several more. Her commitment to VSU, to her academics, and to the community, coupled with her goal to become a middle school teacher in an effort to make a difference in the lives of students is why Mya Curry is deserving of this award.
-Mya was nominated by Brenda Beasley, VSU Orientation & Transition Programs.
-Valdosta-AAUW Award Committee: Sheila Hall, Chair, Dr. Christine James, and Tamara Mack.
-Valdosta-AAUW member, Dr. Ericka Parra, hosted the 2022 Valdosta State University Academic Honors Award.
---
Nominate a Blazing Blazer Today!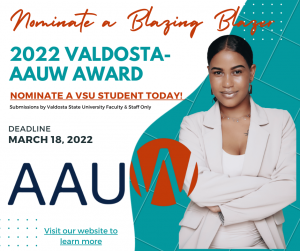 The American Association of University Women (AAUW) is the nation's leading voice promoting equity and education for women and girls. The Valdosta-AAUW Branch is proud to recognize a deserving Valdosta State University (VSU) graduating student (undergraduate or graduate) during the Academic Honors Ceremony Dinner on April, 28, 2022. The award recipient will be invited to attend the Honors Ceremony to receive a certificate and an honorary membership to AAUW.
Nomination Criteria:
-Faculty and staff may nominate a VSU student whose graduation date is between Fall 2021 and Summer 2022.
-The nominee's GPA shall be close to or equal to 4.0.
-The nominee exemplifies the educational ideals and mission of AAUW.
Visit www.aauw.org to learn more about the organization.
Write a recommendation letter and complete the
Nomination Form by March 18, 2022.